APSRからのお知らせ~ Call for APSR Travel Award to the ERS International Congress 2022 in Barcelona
APSRからのお知らせ~ Call for APSR Travel Award to the ERS International Congress 2022 in Barcelona
海外
日本呼吸器学会 会員の皆様へ
団体加盟しておりますアジア太平洋呼吸器学会より、日本呼吸器学会会員の皆様へお知らせがございますので、以下に掲載いたします。

APSR Travel Award to the
ERS International Congress 2022
in Barcelona, Spain, 4-6 September 2022
Abstract submission deadline to the ERS: 15 February 2022 by 23:59 CET

The APSR is pleased to announce the availability of Awards for two APSR members to attend the ERS International Congress 2022 in Barcelona, Spain, 4-6 September 2022.
The awardees will be those judged by the APSR Research Committee to have submitted the best abstracts. Abstracts must be submitted to the ERS, not to the APSR.
The Award:
EUR1,500 bursary towards travel and accommodation
Congress registration
Awardees who are prevented from travelling to Barcelona due to the pandemic will receive complimentary congress registration only for online access.
The Awardee:
Applicants for the award must send a copy of their accepted abstract to the APSR Secretariat (education@theapsr.org) by 15 July 2022.
Must not have already received an APSR Travel Award to any previous ERS Congress
Must be an APSR member (en bloc or individual).
(Note: This award is not available to those with Undergraduate student membership.)
Must be aged ≦40 at the start of the Conference
Must have 3-7 years post-PhD (or equivalent) or 3-7 years post-certification as a professional respiratory specialist
Must be the first author of an accepted abstract and able to present the abstract at the ERS Congress in person or in the online session
The Awardee is required to send a report (circa 500 words) of their experience at the Congress, together with their photo at the Congress, to the APSR Secretariat (education@theapsr.org) within one month after the Congress. The report may be published on the Young Investigators webpage, APSR Bulletin and/or Newsletter.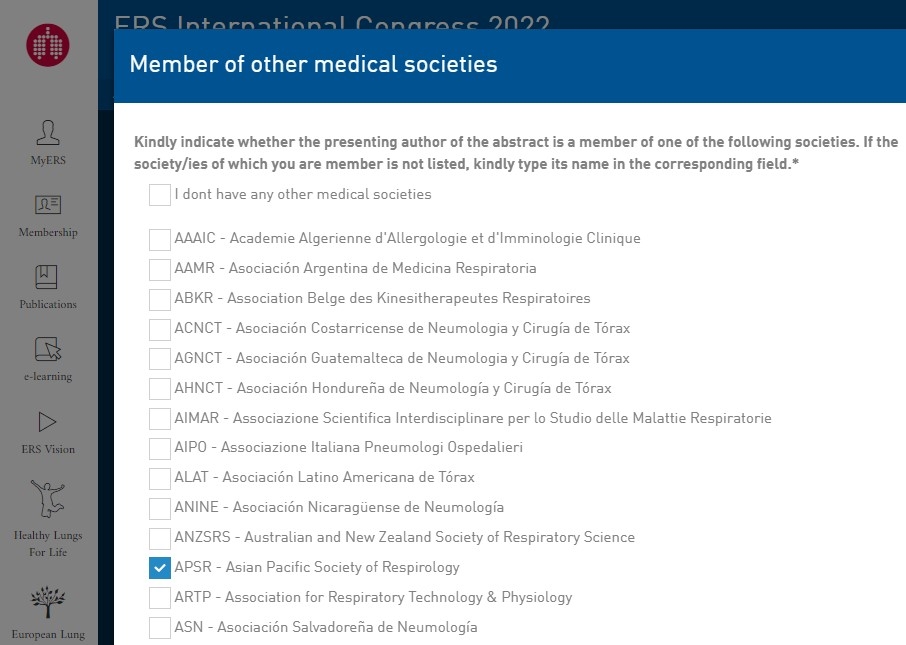 Please see the details;
https://www.apsresp.org/awards/2022/apsr-yi-to-ers.html
(c) 2022 Asian Pacific Society of Respirology
2F, UK's Bldg., 2-29-3 Hongo, Bunkyo-ku, Tokyo, 113-0033 Japan