Presidential Greeting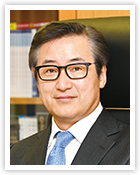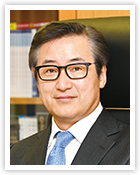 The 61st Annual Meeting of the Japanese Respiratory Society will be held at the Tokyo International Forum in Chiyoda-ku, Tokyo over three days on April 23 (Fri), 24 (Sat) and 25 (Sun), 2021. The Japanese Respiratory Society was founded for developing and promoting research, education and clinical examination of respiratory diseases in general and has since made significant contributions to the advancement of respiratory medicine in Japan. Today, it has emerged as an academic society boasting over 12,000 members. It is a tremendous honor to be made in charge of the Annual Meeting, which is a significant occasion for this society.
Today, respiratory medicine is undergoing major changes. Amidst rapid progress in "personalized healthcare based on molecular targeted therapy," "imaging technology," "endoscopic diagnosis and treatment" and "genomic technology," respiratory medicine has also seen rapid advancement in the field of foundation research using new methodologies, such as "exhaustive research method," "genome editing" and "bio-informatics." The combination of these new technologies is expected to culminate to even greater dynamic advancement. At the same time, progress in the field of engineering technologies such as virtual reality, augmented reality, artificial intelligence and robotics is pioneering a new future in medicine and healthcare. Yet, in the midst of COVID-19 pandemic, the world is exploring what the best responses would be for the outbreak of new infectious diseases.
Amidst the changing times, the main theme of the Annual Meeting is "Humanity-Centered Respiratory Medicine." Preparation work is underway to create an academic conference that attracts multi-disciplinary participants, involved in the treatment of respiratory diseases. Keynote and invited lectures will be delivered by experts on robotics, artificial intelligence, viruses and infectious disease control. President's symposiums will cover themes such as "advancement of engineering technologies and medicine," "respiratory care in the age of Big Data (including AI)," "new technologies and human space," "COVID-19: Summary of the past year" and "Chemotherapy for respiratory diseases in cases accompanied by complications."
We are committed to providing the best-possible "place" that brings together established and up-and-coming researchers from these fields to engage in fruitful discussions on solutions to numerous issues mentioned above. We hope to see a large number of members actively submit abstracts and participate in the Annual Meeting first-hand.
Akihiko Gemma, M.D., Ph.D.
President, the 61st Annual Meeting of the Japanese Respiratory Society
President, Nippon Medical School